The infrared thermal imager can clearly reflect the real-time situation of the hot area on the remote video or computer remote monitor, and let the observer know the specific temperature and location of the hot area. In addition, the "intelligent thermal imager" can determine the temperature of alarm signal by setting program, detect multiple temperature measuring points and send out different alarms. Alarm output can be directly transmitted to alarm device, annunciator, PLC or computer-based monitoring system. When the alarm is sent, the staff can verify the problem and the exact location of the alarm through the visual monitor.
The infrared thermal camera can be used to determine the fire in the early stage, which can avoid high value goods loss or structural damage.
Infrared thermal imager is an ideal tool for warehouse asset protection. Different from other methods such as CCTV Monitor and smoke detector, the thermal imaging technology has the function of automatic temperature alarm, which can prevent the fire in advance, stop the fire in time, and avoid expensive storage loss. It also provides an intuitive, easy to understand visual image to help staff and firefighters immediately assess the situation and understand the problem.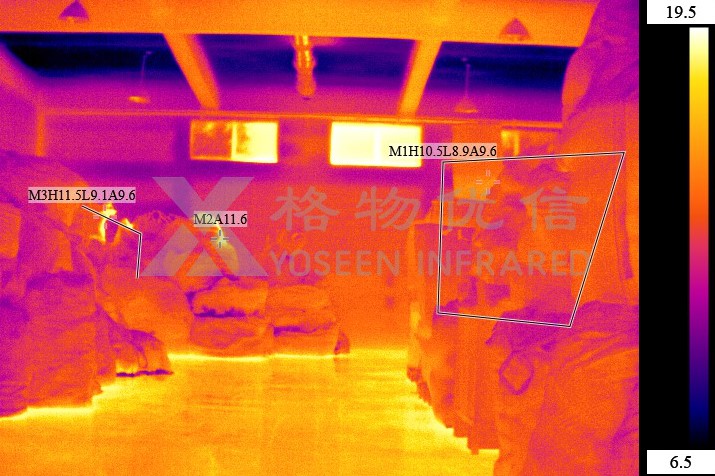 According to the alarm temperature set before, the infrared thermal imager can detect the fire in the initial stage or smoldering stage. Smoke detector depends on the amount of smoke to detect the spread of fire, so it can only detect the fire in the later stage of smoldering stage or the early stage of flame stage. CCTV camera depends on color contrast, so according to different lighting conditions, it can only detect fire in the stage of flame or fire.
The infrared thermal imager can operate effectively without maintenance or any expensive and power consuming lighting equipment. CCTV cameras and smoke detectors generally have the problem of false alarm. Compared with them, infrared thermal imagers produce much less false alarm.
In the early stage of purchase, infrared thermal imager may be a little more expensive than CCTV camera and smoke detector, but because infrared thermal imager can operate without any light, its maintenance cost and energy cost are very low. This solution is also the only system that can effectively prevent fire, protect your assets and protect you from expensive inventory loss, so infrared thermal imager becomes the best warehouse asset protection solution in the market today.
Imaging distance

About 20 focal lengths to infinity

Temp measuring template

Support global high and low temp tracking, point/line/rectangle/ellipse temp measuring template, and tracking in template

Image enhancement

Adaptive drawing, manual enhancement, electronic zoom

Color palette

White hot, black hot, iron red, red saturated, user-defined and others

Focus Mode

Electric/manual, electric lens supports autofocus

Data

Single frame temp

PNG / BMP/ JPG image format with temperature information

Temp flow

Total radiant temperature information storage

Digital video

H.264, support RTSP stream media protocol, MP4 files, support HDMI output interface

Data storage

Support TF card expansion and storage, up to 32GB

Electrical interface

Power supply

DC9~15V, typical power consumption 2.5W@25℃

Analog video

NTSC/PAL compound video output

Ethernet

100/1000 Base, support TCP, UDP, IP, DHCP, RTSP, ONVIF, etc.,provide SDK development kit

Serial port

RS485/RS232-TTL, support uav flight control serial port , S-bus

PWM

Support 4 way flight control PWM input

Environmental parameters

Humidity

Non - Condensing 10%~95%

Temp range

Operating temp: -10~+60℃, Storage temp: -40ºC~+85℃

Other

IP54, Impact resistance: 25G, Vibration resistance: 2G