Bi-Spectrum Cabin Thermal Camera DS-CS-2007-X Series
Bi-Spectrum Cabin Thermal Camera DS-CS-2007-X Series
Bi-Spectrum Cabin Thermal Camera integrates visible light, infrared thermal imaging and intelligent algorithm. The product is suitable for real-time preview, automatic alarm, data storage and analysis and other important security occasions. It is widely used in the screening of human body temperature in hospitals, airports, subway stations, railway stations and other occasions.With CE/FCC/RoHS,it has been sold large quantities to all over the world such as America, Korea and Spain
Accurate Temp Measuring & Clear Image

Selected High Quality Infrared Thermal Imaging Module; Clearer Images,high quality uncooled focal plane detector

Face Detection Algorithm

Rapid and accurate temperature screening; Patented Temp Measurement Algorithm, Accurate & Efficient Shows the Real Body Temp

Non-Contact & Unaware Passing

Stable Temperature Measurement at Different Distances; Enhances the Recognition Rate of People of Color
Six Software Versions: Chinese, English, American, Spanish, Japanese and Korean
Product Characteristics
Effective & Efficient
Non-Contact Fever Screening & Alarm Solution
Yoseen Intelligent Body Temp Measure
Non-Contact & Unaware Passing
Accuracy: ±0.3℃
Auto Fever Detection
Auto Face Recognition
Auto Alarm & Auto Capture
Multi-Targets Monitoring Intelligent Image Algorithm
No false alarms for non-faces
CE & FCC & RoHS etc. International Certifications
Product Parameters
FEATURES

DS-CS-2007-X160A

DS-CS-2007-X384D

Thermal Imaging Parameters

Resolution

160×120

384×288

NETD

≤50mk@25℃

Frame frequency

50Hz

Wave band

8~14μm

Temp range

0℃~50℃

Accuracy

±0.4℃ (without blackbody,stabilize indoor environment);±0.3℃ (with blackbody)

Camera lens

5.5mm

15mm

Field angle

27.8°×20.9°

24.6°×18.6°

Color palette

White heat, black heat, iron red, rainbow, etc

Video output

100M Ethernet, with temp measurement area display

Visual Light Parameters

Image resolution

1920×1080

Resolution

2 million pixels

Network Function Processing

Data interface

100M dual network output

Video processing

H.264/MJPEG

Network protocol

TCP/IP,HTTP,DHCP,DNS,RTP,RTSP

Business functions

Support real-time video transmission; Support image storage

General Specification

Total weight

About 3.5 Kg

Product size

290mm×170mm×80mm(L×W×H)

Wiring method

Back wiring

Shell material

Aluminum alloy, stainless steel

Power supply

DC12V

Working temp

0℃~40℃, humidity <90%
DS-CS-2007-X Series intelligent infrared body temperature monitoring system
It is a non-contact and regional high-efficiency temperature measuring and monitoring system. It can carry out large-scale monitoring in public places with dense flow of people, quickly find out and mark people with high temperature and give an alarm, for example, quickly check the human fevers caused by SARS, Zika and Ebola. Automatic correction, no manual interference, built-in high-precision temperature sensor, completely eliminate the temperature drift, can work stably and reliably for a long time, free from the interference of environmental temperature and other factors. This product is an ideal safety protection equipment for airport port, inspection and quarantine, health and epidemic prevention and other departments.
Quickly find and mark the people with fevers, and automatically alarm at the same time
With the advanced infrared thermal imaging technology, DS-CS-2007-X series can simultaneously monitor the body temperature of a large range of people, respond in milliseconds, quickly find out the people with high body temperature and mark them in red (support rapid multi-individual marking), and immediately send out an alarm signal, so as to easily realize round-the-clock monitoring.

Integrate infrared and visible lights into one, with excellent monitoring effect
DS-CS-2007-X Series The uncooled focal plane detector with 384 × 288,160*120 resolution can provide clear infrared thermal images and 1280x960 resolution visible light images. Advanced intelligent image algorithm processing technology, precise temperature measurement technology, multi-objective over temperature monitoring and marking of over temperature objects are adopted.
Software ① The front end does not show the faces
Software ② The front end shows the faces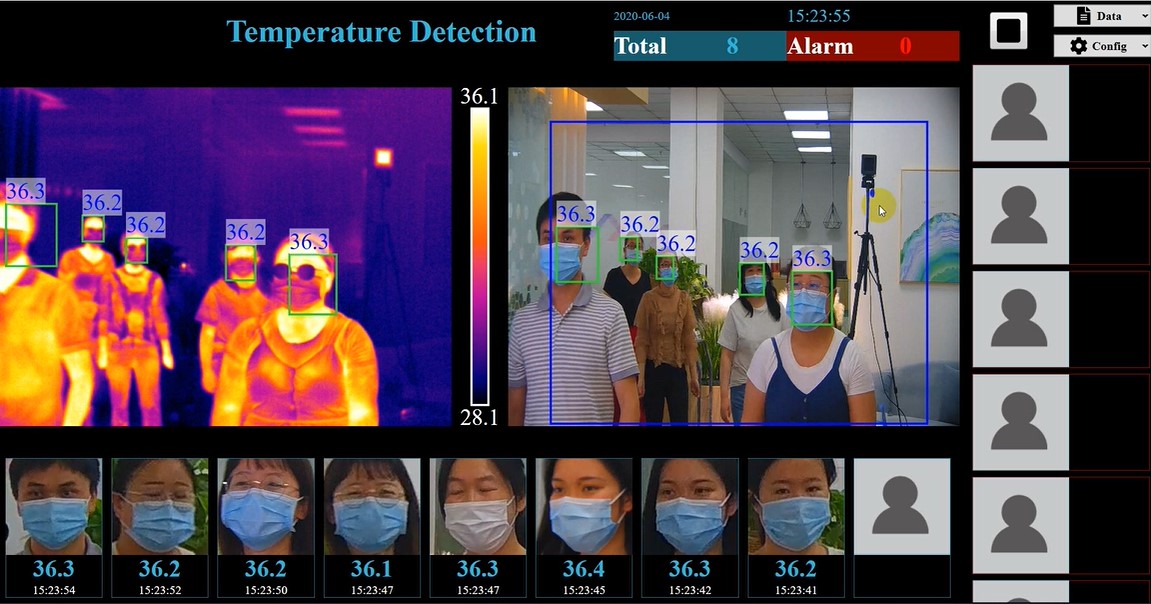 Real time high frequency image capture, storage and transmission
DS-CS-2007-X Series image signal is 50Hz, high frequency makes the image capture not produce the effect of drag and delay, which ensures the real-time monitoring. It can support 24-hour online storage and upload alarm images and videos to the monitoring center through the remote monitoring network for analysis and processing, which is convenient for management.