The first batch of 121 colleges and universities in Wuhan has reinstated more than 50,000 students
Class collective "break up into parts" to prevent students from piling up
Scan the QR code to measure temperature, avoid peak traffic into the school, in the school gate, teaching places and laboratory, canteen, library, dormitory and other key occasions need to conduct infrared temperature screening...... Around 7 o 'clock in the morning, at the gate of Wuhan Experimental Middle School, more than 240 students from class three entered the school one after another. They entered the school campus according to the inspection, and entered the classroom in an orderly manner according to the correct guidance signs on the road surface and the safe indoor stairway matching the class.
"Before the start of the new semester, the university has formulated a campus epidemic prevention strategy and conducted several exercises." In order to prevent staff from gathering together, the school divided each class into two classes, A and B, and carried out the actual division and marking of indoor stairs, safe passage, pumping place and washroom that matched each class.
Riverbank district education department related person in detail, where each school outstanding teachers since March 24, back to school in the classroom actively carry out online teaching and guidance to disabuse, take an active part in scientific research area, the school organization of offline promotion groups, explore the points A and B class with reasonable way of classroom teaching, and guarantee against epidemic prevention and control and on campus this year the university entrance exam review action.
"It seems particularly important to cultivate 'mask culture and art' in schools after returning to school. People must develop the habit of not wearing masks and not going out."
Why should the university resume the course to choose the infrared thermal camera to measure body temperature?
Infrared temperature screening is needed at school gates, teaching sites, laboratories, canteens, libraries and dormitories, the People's Daily said in its "40 latest information on college students returning to school". Infrared thermal imager is the key measure to prevent cross - infection. The following is the equipment scheme of infrared thermal imager: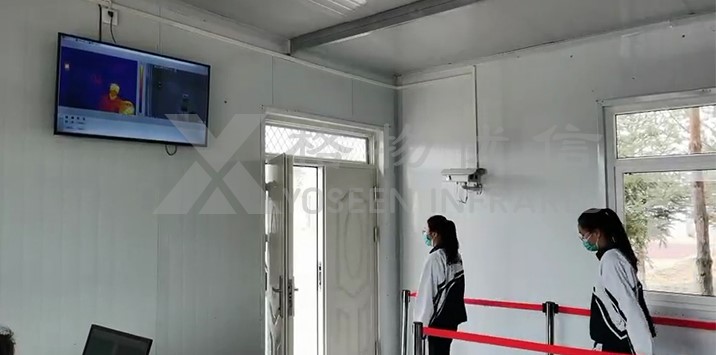 DS-CS-2007-X384D is a non-contact, high-precision and easy-to-deploy intelligent infrared body temperature screening and alarm device developed for the pneumonia epidemic. It combines high-precision infrared thermal image temperature measurement and accurate facial recognition technology, and can quickly detect non-motor vehicles with abnormal body temperature and start the alarm in the situation of large flow groups.
Proposed installation area: school gate, dining hall, library, main teaching building and other large flow places